January 27, 2016
by Jane Deeks
Cassandra Rizzotto, thirty-two, and Lisa Sweetman, thirty-three, are founders and co-owners of Earth + City, a Toronto-based business that sells local, organic, vegan prepared food. Earth + City was born five years ago when Cassandra and Lisa met through mutual friends. A bond immediately formed between the two which quickly became a business partnership. Their brainchild, E + C, is an ongoing success story. What began as a table two Saturdays a month at the Wychwood Barns farmer's market has grown into a company of seven employees, nine weekly market commitments, many wholesale clients, and an emerging online store and catering business. These days you can spot the Earth + City company van driving to and from their spacious and sunny production kitchen at Keele and St. Clair every day as it delivers their collard wraps, bean dips, macaroons, and more to different pockets of the city.
Growth is undoubtedly the trajectory of E+C, but in an economic climate where cutting overhead in the interest of profit seems paramount, Cassandra and Lisa have pursued a different business model. Their goal is political, social and environmental as well as economic growth. They aim to make a profit, but also to challenge the current food system, which makes large-scale processed food with imported ingredients more accessible than local food. To do so, Cassandra and Lisa constantly work to source their ingredients as close to home as possible, to be greener in the packaging and delivery of their product (E + C currently employs a female cyclist for its wholesale deliveries) and less wasteful in its production. Still, as Cassandra and Lisa will tell you, creating food that is "green," "ethical," or "healthy" requires not only hard work, but a critical mind to discern what exactly these terms mean. One chilly Friday morning in October, I met with the entrepreneurs in Lisa's dining room to talk about where they've been and where they're going with Earth + City.
Jane Deeks: Congratulations on five years in business! Looking back, can you tell me about your original blueprint for the company and how you have evolved or deviated from it?
Cassandra Rizzotto: The original blueprint of the company was a bit different from what we have now. Our original intentions were to make plant-based food, which we're still doing, to be as socially conscious around food and food-waste and procurement and food sourcing, and we're improving every year in all of those.
Lisa Sweetman: I would also say that when we got started there wasn't necessarily a blueprint at all. We just met each other, we were interested in the same kinds of things, we were both transitioning in our lives, and we were looking for something inspiring, something engaging. I would say we were open to it going anywhere and that was the magic in it—we weren't necessarily pinned to something specific.
JD: Were there particular things you were seeking for yourselves when you started the company?
CR: At the beginning, we saw a connection in each other and we were both really interested in food, especially as it relates to the farmer's market and community building within that, so we held on to the community building around food. That was so inspiring to us, how we could really engage in a local food system that we believe in and challenge the global, corporate processed model.
LS: And I would say we both wanted to come into control in our own lives. We had both been through significant breakups, we moved a lot, we changed a lot of our career ideas and we were both …
CR: Free!
LS: Yeah, and it felt very empowering to take the reigns for the first time in our lives.
JD: In their last issue, GUTS explored the subjects of food and land, and how they intersect with larger social issues. As individuals, I know you are both passionate about food. Why is it so important to you?
CR: Food for me…has meant a lot of conflicting things. It has meant family, health, turmoil, and angst. In my early twenties and late teens, my relationship to food wasn't a good one at all. In the last decade, it's become a healthy and inspired relationship, and what I find most interesting about food is working with my hands, being very creative. It's endless and boundless, it's universal. It has so many interesting social and political issues attached to it, it's a source of endless inquiry. It feeds my intellect.
LS: I didn't grow up learning to cook much. My mom and grandmother made great stuff, but the preparation of food and the growing of food wasn't a big part of our lives. For me it was a medical shift. I became quite sick. Food became a healing tool to get through a very difficult allopathic situation when I wanted to use a naturopathic approach. And I had to go to the drawing board on my own. I started googling things. Veganism and raw food weren't part of my knowledge base, but someone had given me a cookbook that mentioned "whole foods" and I went from there.
JD: Cass, you touched on the difference between prepared food and its ingredients. There is so much research right now, both sociological and scientific, that argues for the benefits of cooking our own meals. E + C sells prepared food. How do you reconcile your business model to this argument?
CR: I love that question. That's the tension. We do prepared food but we also really believe in people cooking from home. Part of the future of Earth + City will definitely be geared towards creating programs that will teach people basic ways to source food and cook. We don't want to cater only to people who can afford really high-end, good quality things, because that's not accessible. That's another challenge we face: our price point only caters to a certain demographic.
JD: That is a major obstacle for people trying to access healthier, organic prepared food: the financial cost.
LS: I think you'll often hear, "good food ain't cheap, and "cheap food ain't good" and we don't stand by that. I think you can eat clean, healthy, simple food for not a lot of money, but it's a matter of learning how to do that. It's time and knowledge and access. Everyone wants something really ornate or overdone, as opposed to a simple bowl of a grain, a protein and a vegetable, which is healthy, and affordable. That's what I hope we can do one day. Our prepared foods at the market are very much a targeted thing and it's necessary. We need to generate income, but I also know that in the future we can help educate people how to eat cheap and clean.
JD: Both of you have addressed the phrase "good food." With the contrasting theories today of what constitutes a healthy, ethical or sustainable diet, what does "eating well" mean to you?
LS: I believe in the adage that food is your medicine. We need to see food as fuel and see food as contributing to the building blocks of our healthy self. And that is different for everyone. Too many people get on a soapbox of "this is healthy eating, it works for me and so it must for everyone." There's a lot of shaming today about what people eat and it's grossly unfair.
JD: At one point, you've both followed a vegetarian, vegan, raw, or gluten-free diet. But both of you currently maintain a fairly balanced, omnivorous diet. Why is it important for Earth + City to offer the restricted menu of vegan, gluten-free food?
CR: Gluten-free is a naturally lovely addition that we can put aside; it was incidental and we didn't develop the business around that. We developed the business around a plant-based raw diet. We've slowly transitioned from 99 percent raw products to about 60 percent. We've decreased the amount of raw food because in the climate where we live, in Southern Ontario, many local vegetables and grains benefit from cooking. In general, we think everyone would benefit from incorporating more plant-based food and whole grains into their diet. But we're interested in how people can incorporate our products into their own diets—which may include meat.
JD: I've even heard you say that your kale pesto is great on chicken.
CR: And we believe that. We want to be as accessible as possible. We incorporate so much meat and fish into our own diets and we want our plant-based business be open about that. One doesn't negate the other.
LS: Our business model has been one of inclusion versus exclusion. We want everyone, no matter what they eat, to feel included. There's no harm in bringing people closer to more vegetables.
CR: And we're very human focused. When you think about the animal issue, we don't feel entirely relaxed about it. We're not claiming we don't care about that issue.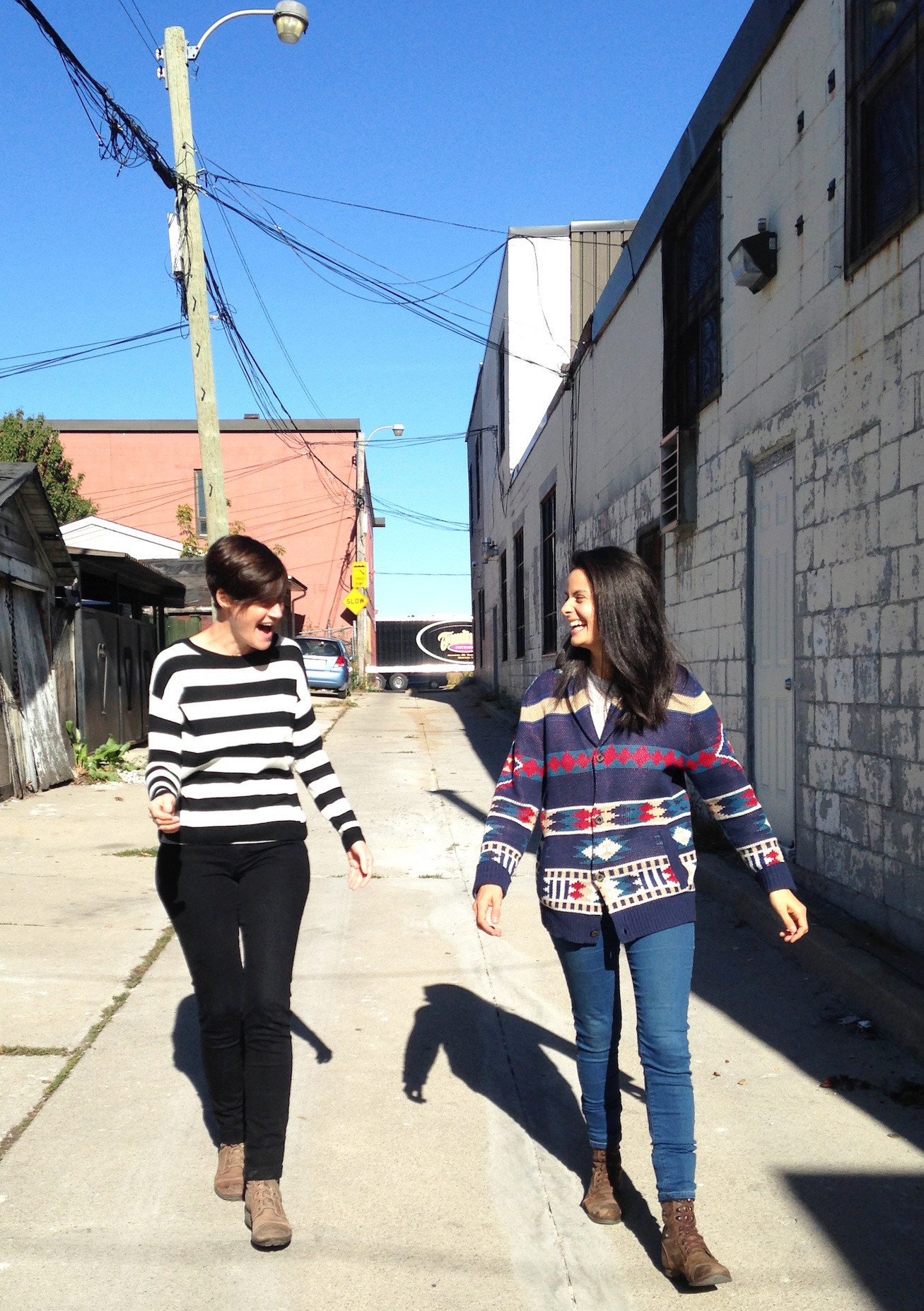 JD: I'm glad you've mentioned the question of sensitivity. As a woman who was vegetarian for years and has worked in multiple vegan kitchens, I often find myself embodying a certain gender stereotype. We've all encountered the idea that the typical man's meal is a steak dinner, while a salad is the standard feminine meal, for health-related or social reasons. Do you think these cliches have any validity and does it bother you to reinforce them by running a vegan business, staffed by all women?
LS: Our customer base is so varied. I don't even want to say there's just as many men as there are women because I don't know how everyone identifies. What we visibly see at our market is a spectrum of people. I can see what you mean in the media and TV and cookbooks, but when you're on the ground, at the market, the wide spectrum is so visible. I also think that a lot of aspects at Earth + City look intentional when they're incidental. It's not that we only hire women. We've interviewed numerous men over the years and we have our first male staff member joining us soon.
JD: On the topic of gender, cooking within the home has been a largely female task, but today the commercial food industry is still dominated by men. For example, less than 2 percent of Michelin star chefs are women. Being two women in the food industry, are there any challenges that you face related to your gender?
CR: At the start of the business we weren't taken as seriously. It may have been our own insecurity of being a new business too, so I don't want to project that entirely.
LS: As entrepreneurs, we're always "female entrepreneurs." You don't talk about "male entrepreneurs," or "men in business." It's "business" or "women in business". I think that is frustrating, and we hold both. I love to drive forward that I'm a female entrepreneur, that I'm a woman in business. But at the same time, why is that? It's tricky, I'm frustrated at being called one, but I love to say that I am one.
JD: Your kitchen isn't a loud, temperamental, testosterone-fuelled place. What kind of work environment did you set out to create with Earth + City?
CR: A lot of it was just natural. This is who I am. This is how I run things and naturally it's not an angry, testosterone-fuelled workplace. I can be loud, and strict and I can have a temper. But maybe that's what appealed to us about having our own business. I didn't have to work so fucking hard to prove myself and be this other "Cass" because that's what would be accepted in this other world. I can just be myself and run things how I want to and have a business partner who loves me for who I am.
JD: Lisa, your partner is one of the managers at Earth + City, and the other manager is a former roommate. All four of you have lived in this house at one point. Your personal and professional lives must be strongly intertwined.
CR: Our conversations at work bleed into our social life, but we don't seem to mind. It's ok. In terms of the emotional and physical boundaries of relationships, we've had no problems with that.
LS: I think that those close relationships strengthen our business. We're one step away from family; we have the bonds of family without the history. Trust is a huge factor when you're running a small business, there isn't anyone else to go to. Everyone has to pull their weight, and show up for each other.
JD: You are two openly queer women working in Toronto, a truly diverse city, with markets scattered around the city, in different neighbourhoods and their communities. So when you're hiring people, how do you balance the need to hire talent with the desire to have a staff that reflects the diverse culture of our city? Have you ever felt a conflict between the two agendas?
CR: It's only been the last couple years that we've had staff. From the beginning it's been an issue that is really important to us. How do we outreach our job postings to certain populations that we would not reach through just our social media? So these things have certainly been on our mind, although we've not been as successful as we'd like. We strive to continually grow.
JD: Before we go, I want to know, what role do you want E + C to play in reshaping the Toronto food scene and how may this city look different as a result of your work?
CR: We're at a critical point with Earth + City in making an impact in Toronto's regional food economy. What are those issues? What is needed and are we equipped to meet them? Those are questions that we are grappling with right now.
LS: That's how we've always built our business, we just made a move when the move needed to be made. Society is changing so quickly and technology is changing so fast and the way food is being grown is changing dramatically year after year. But I think it's remembering our commitment to country, our province and our city and the way food is grown and cultivated and prepared.
CR: The guiding force for us is renewing our education, constantly being open to new information and staying curious. Lisa said it perfectly, things are changing so rapidly, so how can we flex and stay informed?
About
Jane Deeks is a twenty-six-year-old Toronto native. She did her BA at the University of King's College & Dalhousie, and recently completed her Masters of English at the University of Toronto. She currently works for the government doing constituency casework and outreach. Her favourite authors are Truman Capote, Emily Bronte, and Margaret Atwood and her favourite food is pasta, any kind.